Open to People of All Backgrounds
Though the church has an active spiritual congregation rooted in the Swedenborgian tradition, the wedding program is non-denominational and open to people of all backgrounds. We welcome same gender couples. Guest officiants are welcome, as are dogs.
Capacity
The seating capacity of the church sanctuary is 100 guests (in addition to the wedding party, who, as participants in the ceremony, do not need seats). Standing room only weddings will hold 120. The size and intimacy of our church makes it suitable for smaller weddings.
Our weddings are scheduled with two and one-half hours allotted to each wedding. For example, if you have a 2 o'clock wedding, you have use of the church and gardens from 1:00 to 3:30.
Wedding Reservations
In order to make a reservation, please first contact the event manager by emailing events@sfswedenborgian.org to make sure the date you want is available.
Once you have decided on the date with the event manager, please send the following:
50% NON-REFUNDABLE deposit. The remaining wedding fee is due one month prior to the wedding and the whole amount is non-refundable if you cancel within the 30 day period before the event (we accept check or credit card, but there is a processing fee for credit card payments).
Completed Wedding Reservation Form (and the Reception Contract if you are having your reception at the Parish House)
Once we have received the above, we will send out a confirmation letter and get started on your wedding!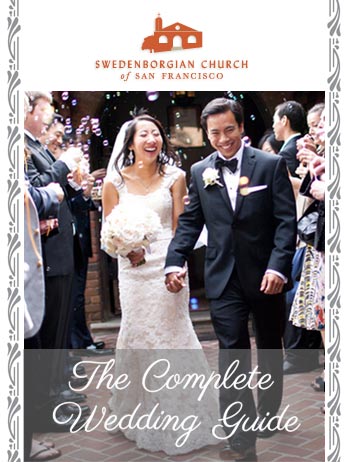 By celebrating your marriage at this National Historic Landmark, you weave yourself into the fabric of San Francisco's vibrant history.
WEDDING COST SUMMARY:
$2,200 for a weekend wedding (Fri – Sun, and holidays): Use of the Sanctuary, garden, two rooms to get ready in and a venue coordinator for 2.5 hours.
$1,800 for a weekday wedding (M-Th): Use of the Sanctuary, garden, two rooms to get ready in and a venue coordinator for 2.5 hours.
You can bring your own officiant and musicians at no additional cost. If you would like to use our officiant or musician, the cost is: $600 for the minister + $350 for musician
Contracts